Retaining Walls
For retaining wall solutions that are both highly durable and beautiful, you can turn to the experts at Midwest Nursery. For over 20 years we have been installing retaining walls that stand the test of time. There are many options when selecting which products to use for your retaining walls, and our experienced staff can help you select the most durable and economical choice for your project. We will take the time to discuss your needs and develop a customized solution that will last for years to come. Take a look at the beautiful retaining walls we have built in our Gallery.
We Only Use The Best Retaining Wall Materials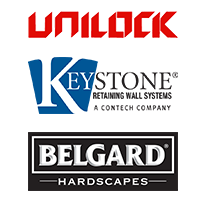 At Midwest Nursery we only use retaining wall products that we know will stand up to our harsh Midwest climate. Unilock is an industry leader and was the first paving stone manufacturer in North America. Unilock is durable and has a wide variety of colors to choose from. Paveloc is a Unilock company, and has great design ideas on their site. Belgard also offers a very durable product that is versatile. Northfield is a Belgard distributor, and their website also shows many great applications for their product. Keystone is an industry leader for retaining walls. Contact us today and we can discuss which products work best and are most economical for your landscaping project.
Experience Makes A Difference
Often times clients call us to fix a retaining wall that has "waves" or seperating bricks. Sometimes we can fix the problem, but occasionally the pavers need to be completely removed to fix the base. When you are shopping for a paver element your contractor needs to specify the type of base preparation they will be installing. The type of aggregate base, depth, and compaction are just a few of the considerations before installing paver elements. Without this proper base even the best pavers will fail over time. We built our business by word of mouth and wouldn't be where we are today without quality craftsmanship and attention to detail that will keep your paver project looking great for years to come. Contact us today to discuss how we can help you with your paver project.
Our Service Area
We service the Central DuPage County area. This includes, but is not limited to, Oak Brook, Hinsdale, Downers Grove, Lombard, Glen Ellyn and Wheaton. If you live in an area outside of this, please contact us for more information.